Food Travel is Our Story
Santorino ltd., co.
Founded by a group of backpackers who love TRAVELING Asia & especially exploring good FOODS.
Therefore, Santorino was born for the sake of travelers, global citizens and local people who are crazy about Vietnam travel, coffee & foods…
Get free Vietnam travel inspiration & tips here.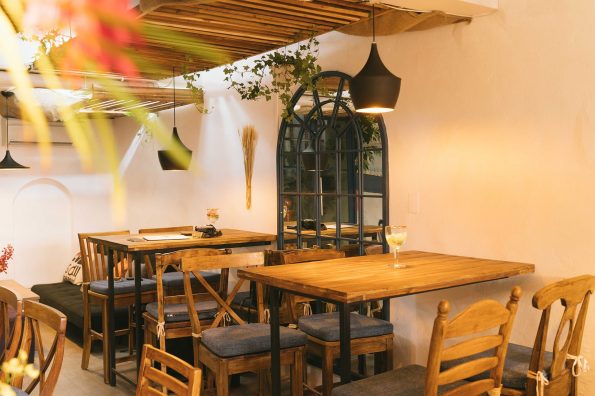 We create fusion vegetarian dishes by picking the top-notch veggies and ingredients from the trustful Vietnam farms. Taste is enhanced with our homemade sauces. Suitable for different types of diets.
If you love seasonal fruits & veggies, you can shop directly on our site.
Pescatarian diet is also available in our menu.
The drink menu offer a wide range of coffee from premium Arabica and Robusta coffee beans from Vietnam highlands, truly fresh juice and creative smoothie.
Hint: coconut coffee is a keyword that you shouldn't miss out.
Feel like home
At this cozy space, most of our frequent guests share that they just feel like home. Every Santorino store, inspired by the friendly Greek style, will offer the most comfortable accommodation, high quality coffee, Western-like & Asian like foods, especially FUSION vegetarian options from our own creativity that you cannot find somewhere else on earth.
The 1st: Santorino coffee & tea was opened on Apr 2017 in #QuyNhon city. Add: 81 Tran Phu, ward Ly Thuong Kiet, Quy Nhon.
The 2nd: Santorino coffee & veggies opened on 20 Feb, 2019 in #Hochiminhcity. Add: 74 Nguyen Ngoc Phuong, ward 19, Binh Thanh, Dist.