Goli Supergreen Gummies
Goli supergreen gummies in vietnam
Mỗi người chúng ta nên đề cao sức đề kháng, bổ sung các loại vitamin, superfood (đặc biệt trong giai đoạn này)
Sản phẩm Kẹo dẻo Goli supergreen gummies 60 viên/ hộp.
???? ??????????? ??????? (?? pcs/???̂?)
Xuất xứ: USA
Sản phẩm Goli được chiết xuất từ ?? ???̣? ??? ????: rau pina, bông cải, rau brussels, rau kale, măng tây, cần tây, atiso, ngò…. Kết hợp với ??? ?? ???? (?????????), ??????? (?-??-???), ???̂́? ???? ??̛?̛̃?? ??̀ ????́?? ???̂́? ??̂̀? ????̂́?.
Please contact us directly for more inf (if any) 088.903.5858
---
Goli supergreen gummies in vietnam
Nếu bạn đã chán uống các loại thực phẩm chức năng để bổ sung khoáng chất cần thiết cho cơ thể thì hôm nay Santorino sẽ giới thiệu bạn Goli Supergreen Gummies – một loại kẹo dẻo vô cùng tốt cho sức khoẻ. Cùng Santorino tìm hiểu sản phẩm này nhé !
Mỗi người chúng ta nên đề cao sức đề kháng bằng việc bổ sung các loại vitamin, thực phẩm cần thiết cho cơ thể (đặc biệt trong giai đoạn này sau hậu Covid này)?
Với sản phẩm Goli Supergreen Gummies bạn sẽ được trải nghiệm một loại " snack " bổ dưỡng cho cơ thể – vẫn đầy đủ vitamin mà không hề nhàm chán !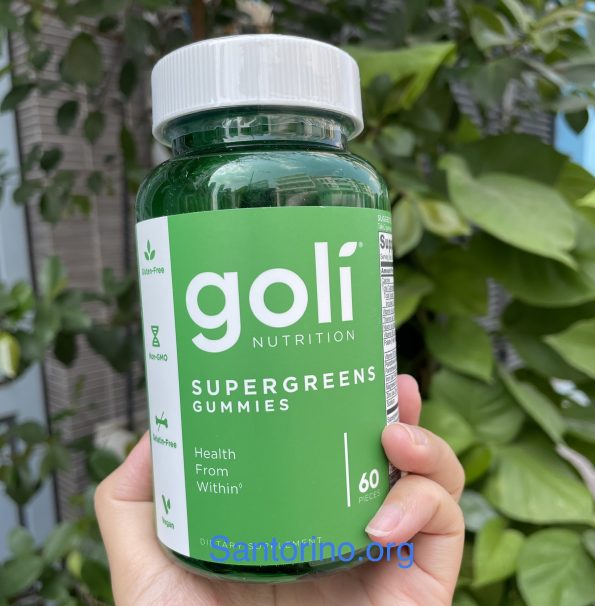 Goli Supergreen Gummies là sản phẩm được nhập khẩu trực tiếp từ Mỹ mới được ra mắt nhưng được sự "đón nhận" rất tích cực của người tiêu dùng vì Goli rất tiện lợi cho việc bổ sung vitamins, khoáng chất và proteins cho cơ thể, sử dụng mọi nơi. Đơn giản như nhai 1 viên kẹo dẻo. Hương vị thơm ngon.
Lọ kẹo giấm táo của hãng mọi người quen quá rồi nhỉ, kẹo Goli Supergreen Gummies cứu tinh cho những nàng lười ăn rau, nhưng vẫn có thể bổ sung "thực phẩm xanh" mỗi ngày!
Trên thị trường đa số thực phẩm chức năng bổ sung rau xanh thường là dạng bột, dạng viên uống có người thích người không. Dòng này là dạng kẹo dẻo không calo, vừa ngon vừa tốt sức khoẻ vừa không sợ tăng cân.
Sản phẩm Goli supergreens gummies được chiết xuất từ : rau pina, bông cải, rau brussels, rau kale, măng tây, cần tây, atiso, ngò….
Tăng cường chức năng gan khoẻ mạnh
Tăng cường bảo vệ hệ tiêu hoá, hệ thần kinh, hệ thống miễn dịch khoẻ mạnh.
Hỗ trợ sức khoẻ tổng thể & tăng cường trao đổi chất lành mạnh.
Antioxidant Support hỗ trợ ngăn ngừa bệnh ung thư, các gốc tự do gây hại, đồng thời ngăn ngừa dấu hiệu lão hóa cho làn da.
Cơ thể chúng ta vẫn có khả năng sản sinh ra các Antioxidant nội sinh, nhưng để ngăn chặn tốt nhất nên thường xuyên bổ sung Antioxidant cho cơ thể bằng thực phẩm, TPCN, skincare mỗi ngày.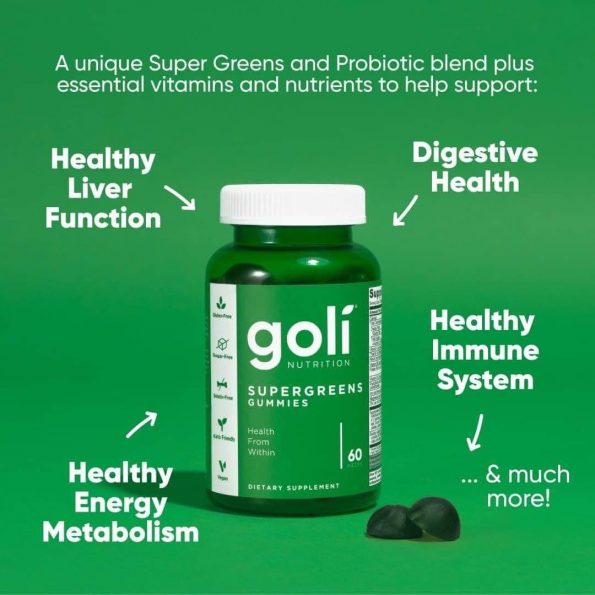 About Goli Nutrition
Goli Nutrition is based in West Hollywood, but they have developed a nationwide reputation for their product catalog, including Goli Apple Cider Vinegar Gummies, Goli Superfruits Gummies, and Goli Ashwagandha Gummies. These gummy supplements are not only organic and vegan-friendly, but they are also gluten- and gelatin-free. Just like a supplement to boost your immune system or krill oil supplements, these gummies make it easy to improve your health every day.
Goli SuperGreen Gummies are a nutritional supplement that provide you with a convenient and delicious way to get your daily dose of greens. Each gummy is made with a blend of nutrient-rich superfoods, including spirulina, chlorella, and wheatgrass, as well as essential vitamins and minerals.
These gummies are vegan, gluten-free, and gelatin-free, making them a great option for anyone looking to boost their daily nutrient intake. They are also free from artificial flavors and preservatives, and are made with natural sweeteners such as organic cane sugar and tapioca syrup.
In addition to their health benefits, Goli SuperGreen Gummies are also designed to taste great. They have a delicious tropical flavor that is sure to satisfy your sweet tooth, while providing you with the essential nutrients your body needs.
Overall, Goli SuperGreen Gummies are a great choice for anyone looking to improve their overall health and wellness in a tasty and convenient way.
Xem thêm Goli superfruits gummies